Monitoring and control is concerned with checking the progress being made and evaluating the results against the expectations.
This activity is at the core of Project Management.
Project Management Advisor Project Management Advisor is a good tool to learn quickly about the principles of project management. This advisor uses the PMI (Project Management Institute) guidelines and best practices as a basis for project management. PMI uses the Project Management Book of Knowledge (PMBOK) as best practices that specify the following main activities shown below
Initiation
Planning
Execution
Monitoring and Control
Closing
Click to view this advisor
Major Sources of Additional Information
Project Management Tools
Tools are the means that help project managers team members and the other stakeholders to successfully plan, execute and monitor the different tasks of project in each phase.
Project management tool function model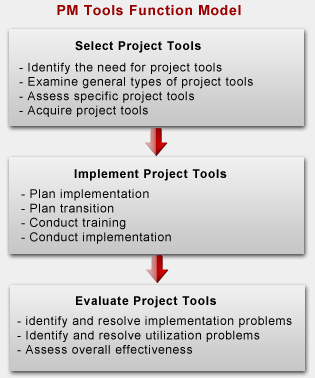 Following are some project management tools :
TFS Work Item Manager and TFS Project Dashboard Click here
Todoist is a task manager that's useful, fast and easy to use. We currently manage millions of todos and we are ready to manage yours as well! todoist.com
Do you find yourself still painstakingly trying to plan your projects in Excel? Tom's Planner is the answer to your needs. It makes project planning easy, fast and even enjoyable. tomplanner.com