Executive Summary
| | |
| --- | --- |
| Service Name: | Mobile Health Clinic (MobClinic01) |
| Country Name: | Zambia (Z4Zambia) |
| Target Customers: | Citizens, Businesses, and other Agencies (possibly) |
Service Mission: Mobile Health Clinic Overview
Mobile Health Clinical Services
Mobile health clinics (MHCs) provide a wide range of medical services that range from helping the homeless to assisting disaster victims. These clinics have been extremely effective around the globe, especially in the developing countries, to combat HIV, reduce infant mortality and improve maternal health. Mobile health clinics combine the following growing areas to help the public:
Mobile units, equipped with needed medical capabilities, that can move quickly from one location to another
Telemedicine (the use of medical information exchanged from one site to another electronically) to help the patients. This includes consultative, diagnostic, and treatment services.
Mobile (portable) devices with the capability to create, store, retrieve, and transmit data in real time between end users to help the patients. The mobile hardware devices coupled with software applications and patient data increases clinicians reach, mobility, and ease of information access, regardless of location.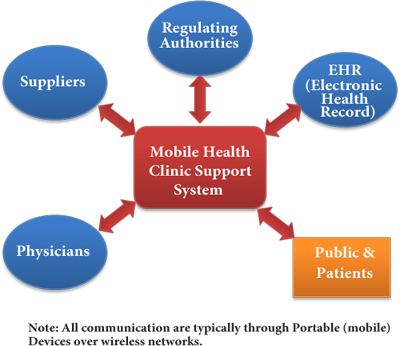 A well integrated Mobile Health Clinic Support Application (shown in the diagram) should locate the supplies available in the neighborhood, locate potential patients who need help, support physicians to provide clinical services, access to patients electronic health record (EHR), and support inventory management, workflow and administrative activities by using mobile devices over wireless networks.
Although the services provided by the mobile Health clinics vary widely, the offered services can be categorized as follows:
Informational only, just to keep the public informed
Testing (e.g., HIV testing)
Treatment (e.g., vaccinations)
Naturally, the capabilities needed in the mobile clinic will depend on the type of services being offered.
Common Automation Strategy:
Patient care is being commonly supported by healthcare software from companies such as SAP and IBM. However, an integrated supported system is needed for mobile health clinics.
Service Goals (How this service will be delivered to the customers)
| | |
| --- | --- |
| Service Type: | Transactional |
| Boundaries Crossed: | Federal |
| Use of Web: | No use of Web(Paper-based systems) |
| Use of Mobility: | No use of mobile computing |
Service Assessment Results
Cost/Benifit Results: Should be Done After Very Careful Analysis of Effort (i.e., try to reduce effort)
SWOT (Strengths, Weakness, Opportunities, Threats) Results: Worth Pursuing
Acquisition Strategy Recommended: Outsource
Architecture View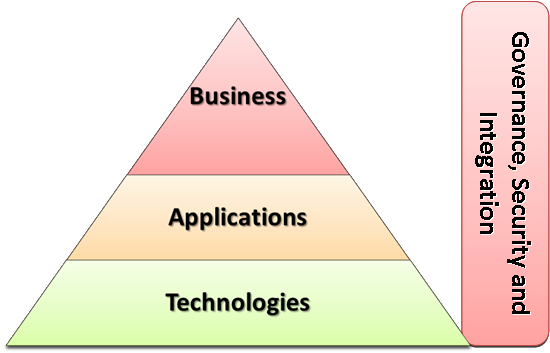 The strategic Planning Document provides information about different aspects of this architectural view. Additional documents generated by the system focus on different aspects of this view.
Following is the list of support documents, in alphabetical order, generated by the system with brief description.
Support Documents Available

Administrative (Governance) Guidelines

Public awareness and marketing activities needed
Possible funding sources
Training and capacity building needed
Ethical guidelines to be followed
Failure risks and how to minimize and manage them
Governance guidelines and appropriate standards


Audit List

Policies checklists
Procedures checklist
Security checklist
Technology checklist


Business and Integration Requirements Document

Functional requirements
Security requirements
Interface and integration requirements
Logical architectures
Vendor considerations
Information models (use cases, flow diagrams)


Business Plan

Template for business plan
Business and company information
Service specific Information needed


High Level Strategic Plan and Solution Architecture

Generic information (common best practices, e.g., security) that enforces uniform standards and practices.
Service specific (e.g., healthcare versus education) information to address the unique problems for the type of service.
Situation specific (large versus small system, simple versus complex system) recommendations of technologies and management.
Country/Region specific (e.g., Belgium vs. Brazil) suggestions based on country/region specific factors supplied by World Economic Forum (WEF) and United Nations (UN).


Project Management (Monitoring and Control) Report

Project initiation tasks
Project planning tasks
Project execution tasks
Project monitoring tasks
Project closing tasks


RFP (Request for Proposals) Corner

Organization information
Bid submission procedures
Detailed technical specification of the service
Qualifications needed


Standards Used

Best Practices used (e.g., SOA, TOGAF, PMBOK, CMM)
International Standards Used (e.g., ISO 9000, ITIL, NIEM)